Blow Up Pools
Over the past few years, the market has seen many new "blow-up" pools such as Intex. The Slime Bag aids in the filtration of your current Intex or blow up pool filter system. The Slime Bag also enhances the filtration of the Intex 59900E filter cartridge.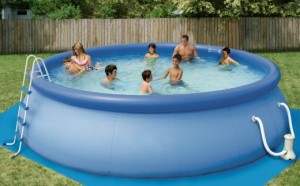 The majority of our customers have problems with the filtration package in that the "paper" cartridges just don't filter adequately. Now, you have a solution!
Slime Bag, Model # SB1.5012, 12″ x 30″ can be adapted to these pools quickly and efficiently. Also, Is your current Intex filter cleanable?
Instructions: (make sure pump is off)
Plug the outlet hole from the discharge of the filter cartridge located in the pool wall (Plug is usually supplied with the pool.)
Disconnect the outlet hose from the filter housing and clamp the Polishing Slime Bag to the end of the hose with the clamp included with the Slime Bag.
Now place Slime Bag and hose over the top of the pool and in water. Turn pump on and allow to recirculate.
Pool will clear up in 2-4 hours! (Leave existing cartridge in place to act as a prefilter to the Slime Bag.) Slime Bag can be removed by unclamping when guests are in the pool and clamped back on when filtering is in progress.